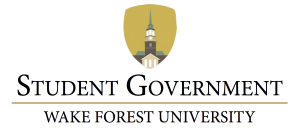 We represent the student voice at Wake Forest University.
Student Government is the representative student body of the undergraduate College and School of Business elected to represent students from all of Wake Forest's classes. We bring all of our varied interests to the SG to create an institution representative of Wake Forest's incredibly diverse student body.
Our membership is comprised of representatives from each of Wake Forest's undergraduate classes. Freshman are elected solely by their residence halls and upperclassmen are elected at large.
We listen to students and address their concerns. We connect the gap between students and administrators. We support student groups and sponsor house life. We encourage events on campus and improve student life. We are here for the students. We are SG.
SG weekly Senate meetings are held Tuesdays at 7:00 PM in Pugh Auditorium (Benson 215). Open to the public!
News
March 27, 2022
We are excited to announced the elected senators for the 2022-2023 Academic Year: Class of 2023: Sarah Dalton, Tonia Christou, Ava... Read More »
---
March 23, 2022
We are beyond excited to announce our Executive Board for the upcoming 2022-2023 Academic Year. We are so proud of you and cannot wait... Read More »
---
February 22, 2022
Here is the 2022 Elections Packet. Elections begin March 22nd at 12pm and conclude March 23rd at 11:59 AM. Results will be displayed at... Read More »
---