Main Content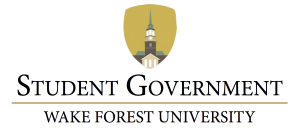 We represent the student voice at Wake Forest University.
Student Government is the representative student body of the undergraduate College and School of Business elected to represent students from all of Wake Forest's classes. We bring all of our varied interests to the SG to create an institution representative of Wake Forest's incredibly diverse student body.
Our membership is comprised of representatives from each of Wake Forest's undergraduate classes. Freshman are elected solely by their residence halls and upperclassmen are elected at large.
We listen to students and address their concerns. We connect the gap between students and administrators. We support student groups and sponsor house life. We encourage events on campus and improve student life. We are here for the students. We are SG.
SG meetings are held Tuesdays at 7:00 PM in Benson 409. Open to the public!
News
November 17, 2020
Read here the new comprehensive guide to the inner workings of SG! It can also be found under governing documents.  Read More »
---
September 8, 2020
Watch senate weekly using this link! Read More »
---
September 7, 2020
The 2020 Freshman Election is almost upon us! Below are important dates for the elections process, as well as the Student Government...
Read More »
---